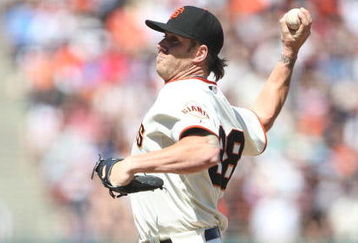 I was dabbling around in my stat counter and found that nearly everyone who found my blog, was searching for "Brian Wilson Giants tattoos" or "Brian Wilson dog" or something similar. Funny.
This is not a baseball blog, folks... however since Brian Wilson is in town when the Brewers play the Giants... might as well post some photos and share why I think he's awesome.
As a person with a short attention span, I sometimes have a hard time relating to baseball. All of the announcers sound like old men straight outta the 1940s, and the games... move... so... slow. I find Brian Wilson to be a relatable person and like that he doesn't conform with his haircut, tattoos, and persona. Some of the shirts he wears are a little flashy for my taste - I do not like the lip goatee either - however what's more important is his hilarious sense of humor and fun personality. Also, he's a healthy food lover.
Brian, you've made a baseball fan outta me! You get the Backstage Pass to Health & Happiness stamp of approval.